Latest News
Back To News
Kevin Cronin Blog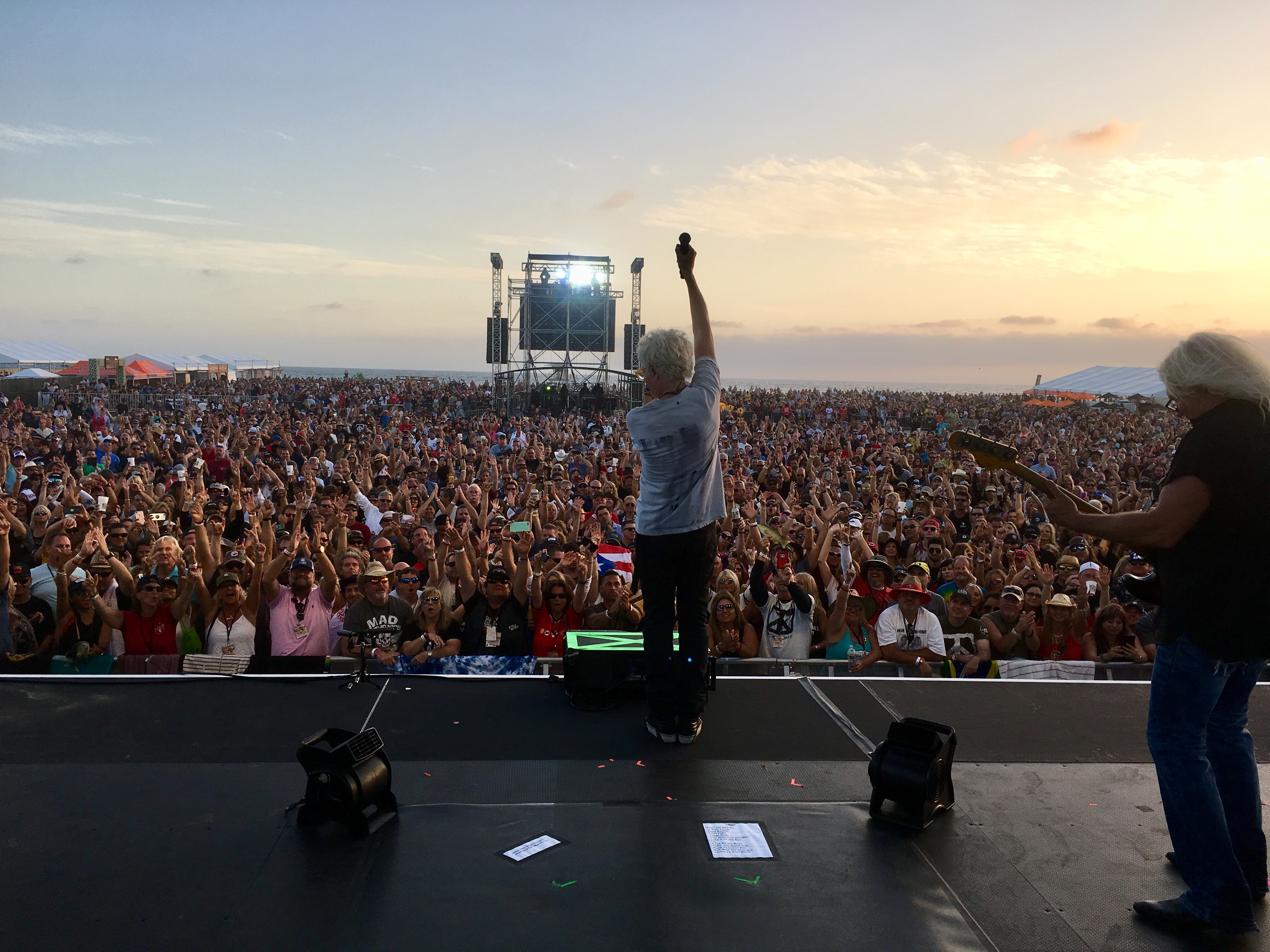 Hi friends,
So October has been quite a month. We started out with the High Tides Beach Party in Huntington Beach, CA. Over 12,000 people on a beautiful day with the Pacific Ocean as a backdrop…it also happened to be my birthday…one of my most awesome birthdays ever.
Josh and Shane's band, Sir, Please opened the show, with a set of originals, and did a great job. The vibe in the artist area back stage was so awesome. Sammy Hagar surprised me with mariachi trio serenading me with Happy Birthday. I felt very fortunate to be surrounded by so many people I love.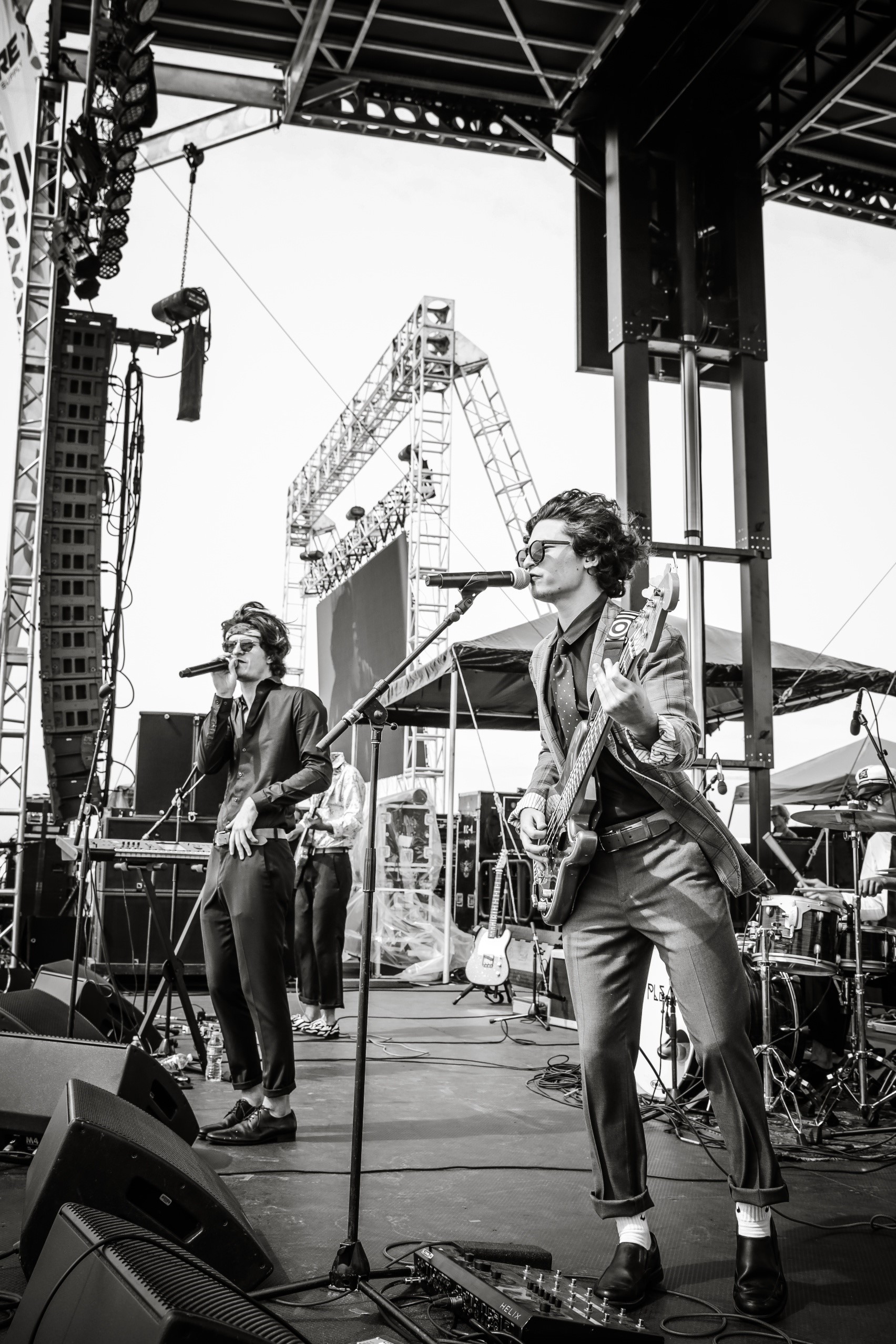 Tre Cool from Green Day played a set with his side project, The Dead Mermaids and later came on stage in full costume to introduce REO. Looking out over the sea of smiling rock fans, with the sun setting into the Pacific Ocean was about as cool as it gets for us. Half way through our set Eddie Money paid us a visit on stage, and we broke into a rocking version of "Two Tickets To Paradise". We love Eddie. My birthday, loved ones everywhere, rocking fans as far as we could see, and I must say REO Speedwagon rose to the occasion. I really love our band. To top it off, Lisa, Holly, Josh, Shane, and the Sir, Please boys joined us for "Roll With The Changes". I had so much fun up there…and it would keep getting better.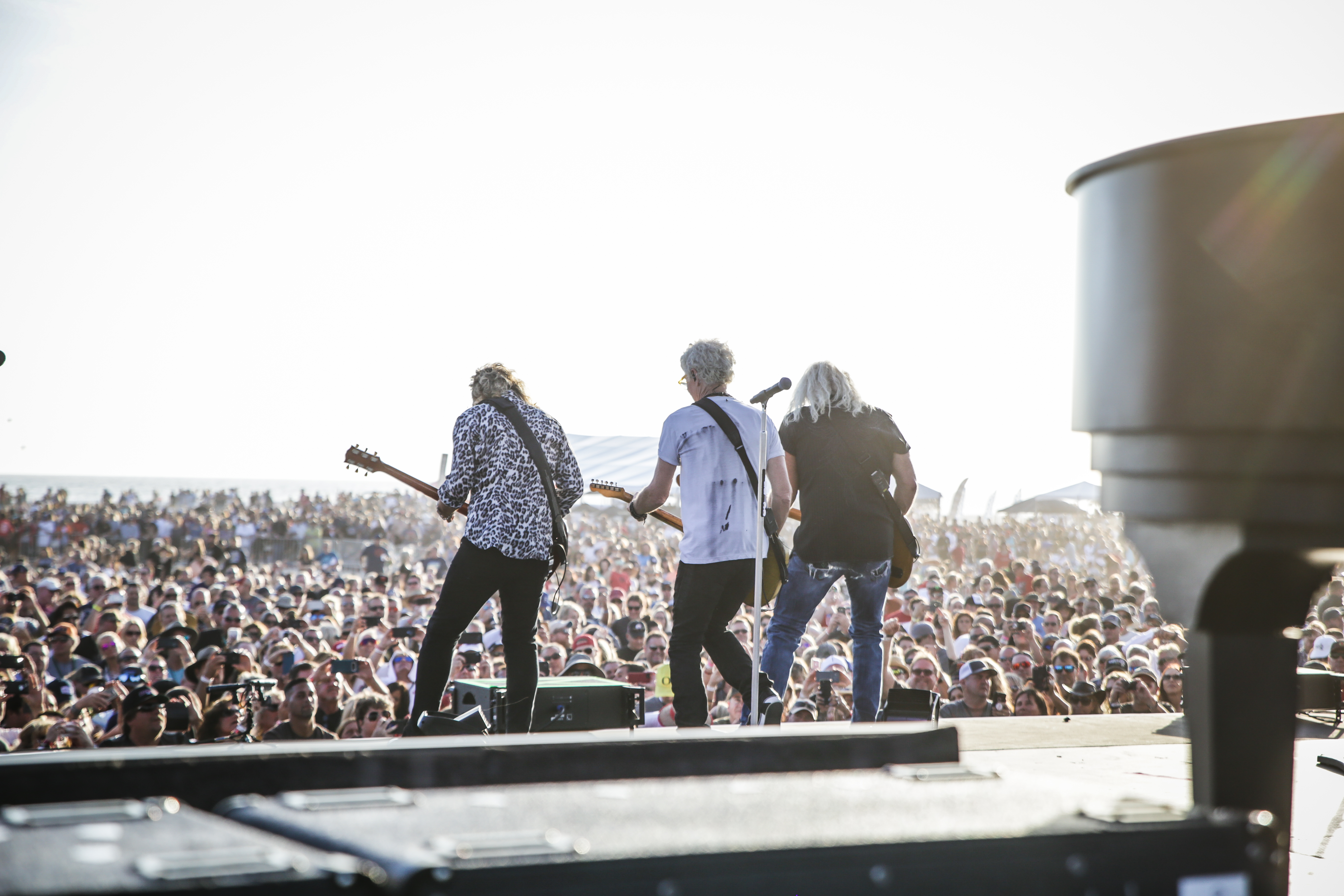 Sammy Hagar came out with The Circle: Michael Anthony, Vic Johnson, and Jason Bonham. What a band…and Sammy sings his ass off. Later in their set Joe Satriani joined Vic on guitar. Joe becomes the Guitar when he plays. Then Sammy brought out Vince Neil to sing a few Motley Cru songs. Next thing I knew I hear my name, and Sam is waving me out to join in on "Girls, Girls, Girls". I stayed out for the rest of Sammy's set, which ended with a cover of Led Zeppelin's "Rock and Roll"…with Jason Bonham on drums, and Satriani still with us on guitar.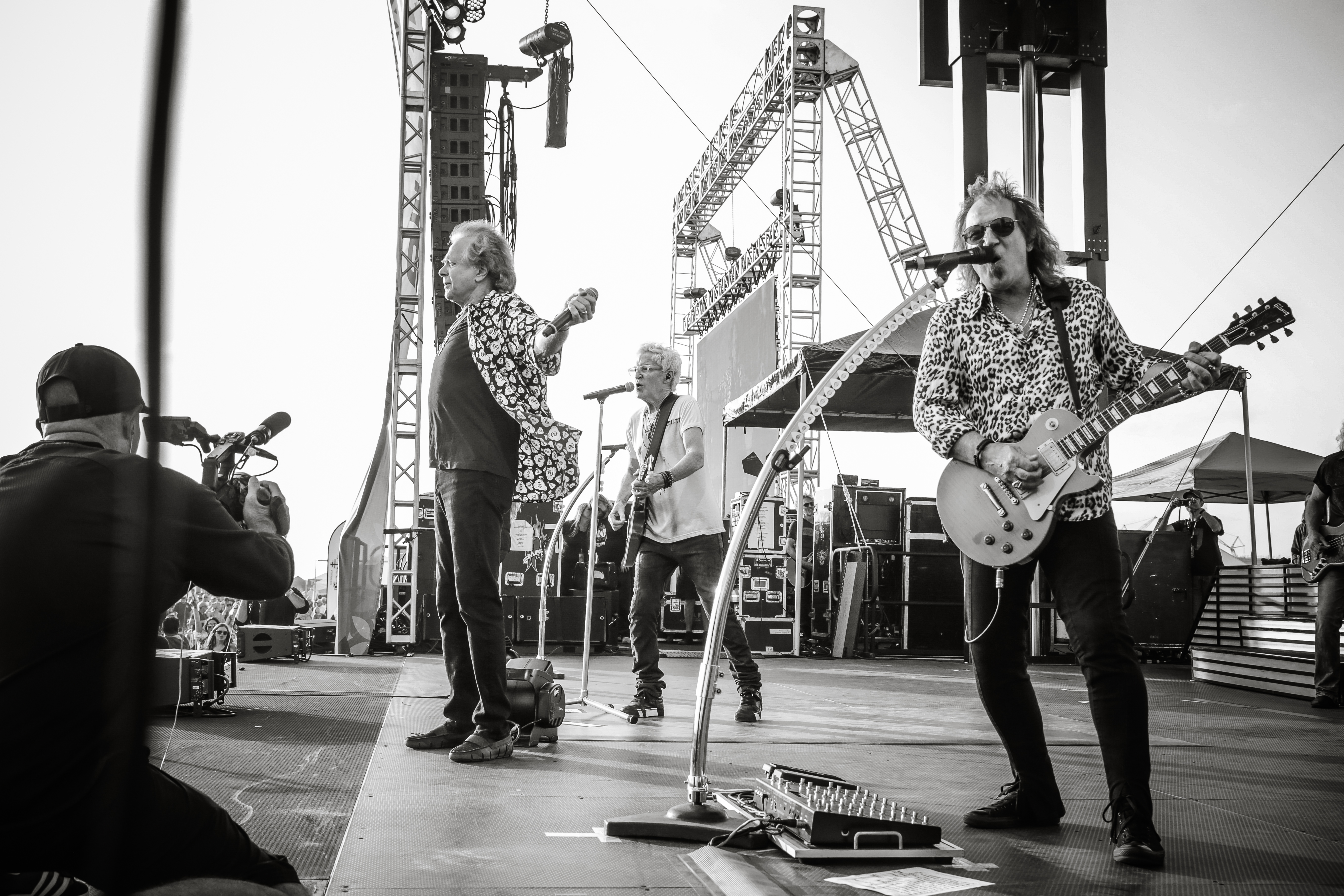 After the show, a birthday party had been planned in the penthouse of the Waterfront Beach Hotel. Again, as I looked around the room I saw only people I love. I felt joy, gratitude, and so lucky to be exactly where I was at that moment.
The next morning Lisa and I joined Sammy, Vic, Jason, and Tommy Consolo on Sam's beautiful airplane, and before we knew it we were on the tarmac in Cabo San Lucas, where we were greeted with shots of Sam's new Santos Mezquila. The party started immediately, and never stopped for the next ten days.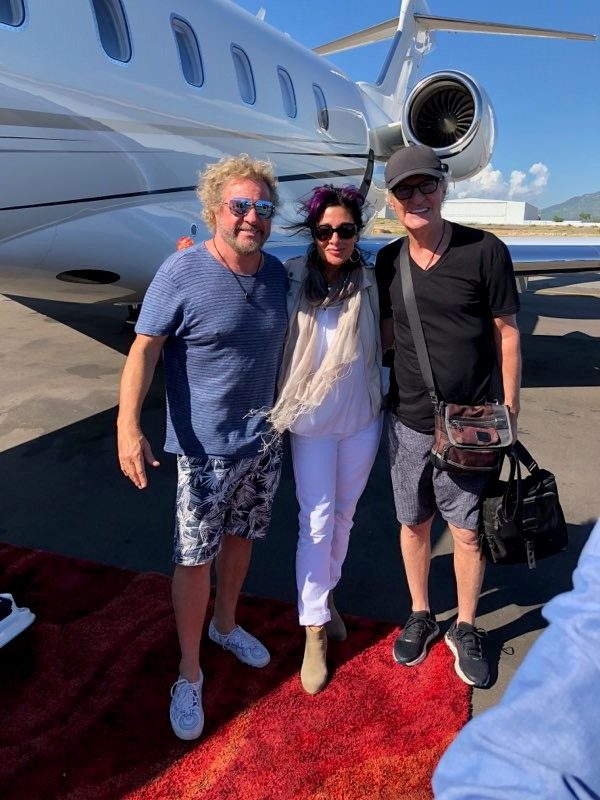 Sammy Hagar is an amazing guy. We played four shows at his Cabo Wabo Cantina, and never did even close to the same set on any night. Jerry Cantrell joined us on Tuesday and we backed him on a couple of Alice In Chains favorites. On Thursday night Toby Keith came up and we jammed on some old Chuck Berry classics. The scene backstage was a riot. Our buddy, and three time National League batting champion Larry Walker and pitching great Roger Clemons were in town for a charity event, and found themselves upstairs at the Cabo Wabo, doing Mezquila shots with us in the dressing room. I had an absolute blast. I got to know Sammy Hagar a bit better on this trip. I love that the Sammy you feel when you see him on stage, is pretty much the same straight forward, high energy, endearing dude he is at the dinner table.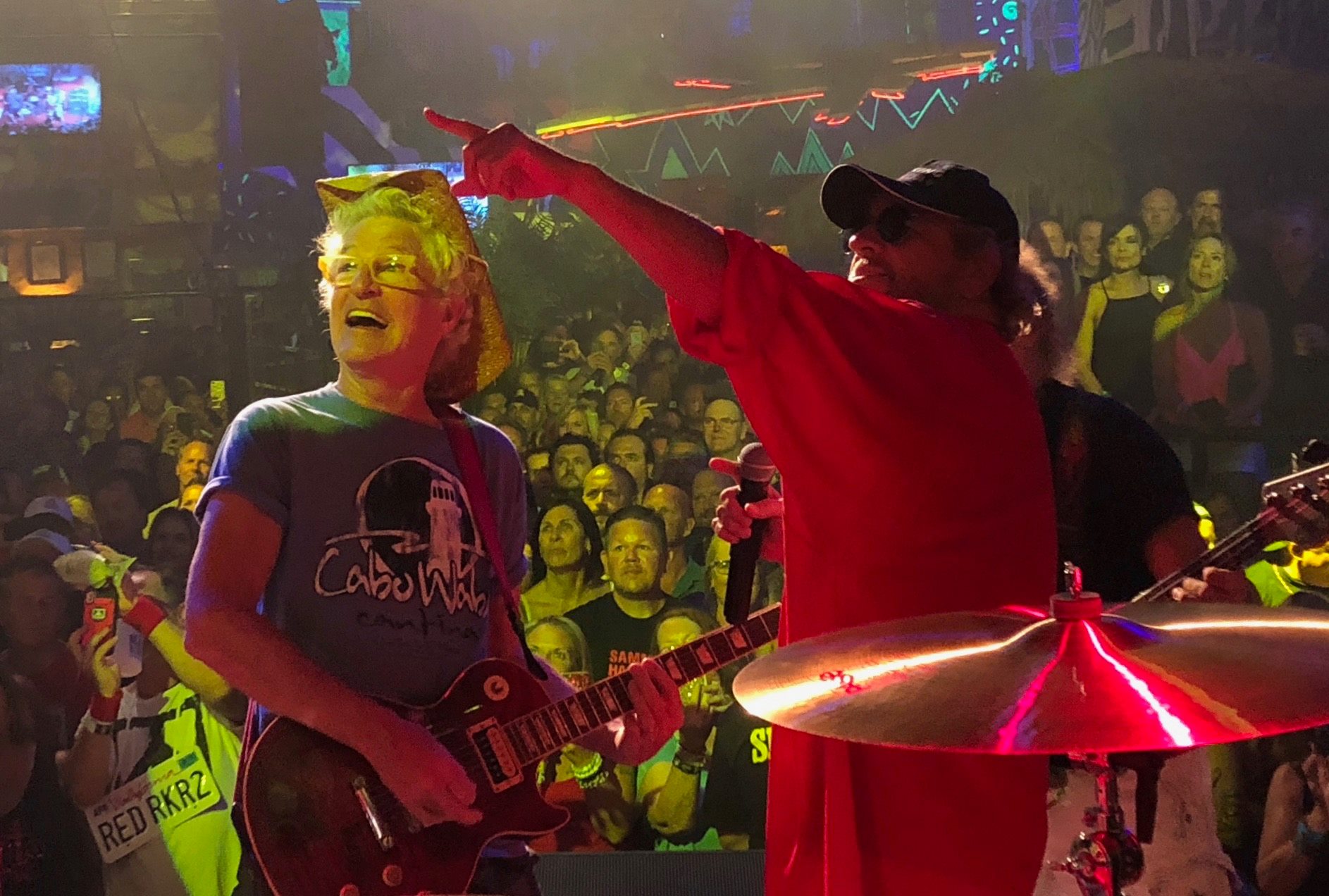 Lisa and I needed a few extra days in the sun, as I am told  Vitamin D is good for Mezquila recovery. Anyway, we hung back in Cabo for a couple of days of total relaxation, before returning home last weekend.
Tommy Consolo, who also manages Sammy, has been telling me how much fun the Birthday Bash in Cabo is…now I get it. This year was definitely one of my favorite birthdays ever. Thanks so much to Tommy, Ken Denson, Big Mike, and of course my awesome wife Lisa, for making it happen. I am truly the luckiest guy in the world…well, it may be a tie between me and Sammy!
See you this weekend in Coachella, and Las Vegas. Much love…kc